Laser Wizard Supporting Penrith Valley Chamber of Commerce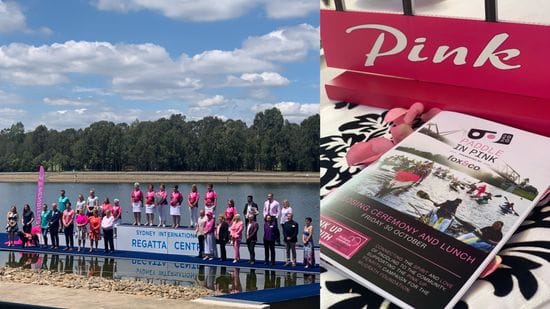 During the month of October, the Penrith Local Area was transformed PINK as part of the McGrath Foundation's "Pink Up Your Town Campaign" raising funds to support the McGrath Breast Care Nurses who provide invaluable support and care to men and women experiencing breast cancer in the Penrith Local Area.
As Laser Wizard is a long-term supporter of the Penrith Valley Chamber of Commerce, we were delighted to attend the Paddle in Pink closing ceremony at the Sydney International Regatta Centre in Penrith last Friday. The event focused on recognising those in the community who have gone the extra mile to support such a wonderful cause and promote "Pink Up Penrith" in their community.
Laser Wizard would like to extend our congratulations to those recognised on the day;
- Neel Chand (Penrith RSL CEO), Awarded the Pink Up Penrith Community Fundraising Award
- Sarah Maguire (McGrath Breast Care Nurse Nepean Hospital), Awarded the McGrath Foundation Recognition Award
- Pendragons Dragon Boat Club, Awarded the Paddle in Pink Award
The award ceremony was followed by lunch at the Lakeside Restaurant with entertainment, games, raffles and auctions to support the McGrath Foundation. It was amazing to see so many PVCC Members and Businesses attend on the day to show their support. Laser Wizard look forward to continuing our ongoing support with the Penrith Valley Chamber of Commerce.
Click here to find out more about the Penrith Valley Chamber of Commerce. To show your support for the McGrath Foundation head to https://fundraise.mcgrathfoundation.com.au/fundraisers/pinkuppenrith
Curious on how Laser Wizard can help you with your next project?
Visit www.laserwizard.com.au to view our vast range of Services & Capabilities
Author:Laser Wizard