Laser Wizard - Local Business Award 2020 Winners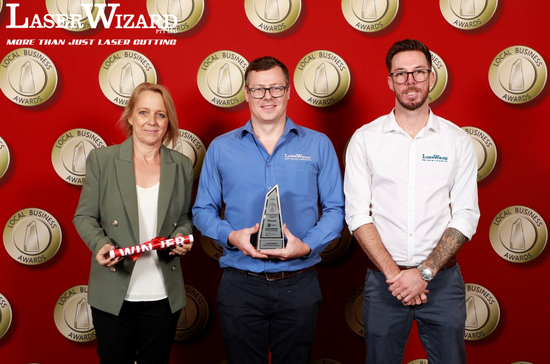 "The Local Business Awards acknowledge outstanding local business and their people who go above and beyond providing an exceptional customer service experience" - Local Business Awards
Laser Wizard were honoured to attend the Annual Local Business Awards Ceremony as one of the nominees for the Mt Druitt/St Marys"Most Inclusive Employer" for 2020. Laser Wizard are grateful to be involved in an event full of Local Businesses who are recognised for outstanding achievements across 28 different categories.
Laser Wizard's Kellie Knight (Business Development Manager), Muir Thomson (Director) and Chris Paton (Estimator) pictured above, were present for the ceremony and were ecstatic to be awarded winner of the "Most Inclusive Employer" on the night.
The "Most Inclusive Employer" Award seeks to recognise the efforts of those Organisations and Businesses in the Local Area that have created a business which is inclusive of the entire community, enabling people with limited mobility and/or disabilities an equal chance within their Local Business District.
We would also like to congratulate all the businesses nominated and awarded in 2020 and look forward to continuing our commitment to inclusivity.
Author:Laser Wizard